GET FREE BRAND AUDIT REPORT FOR YOUR BUSINESS
Search Engine Optimization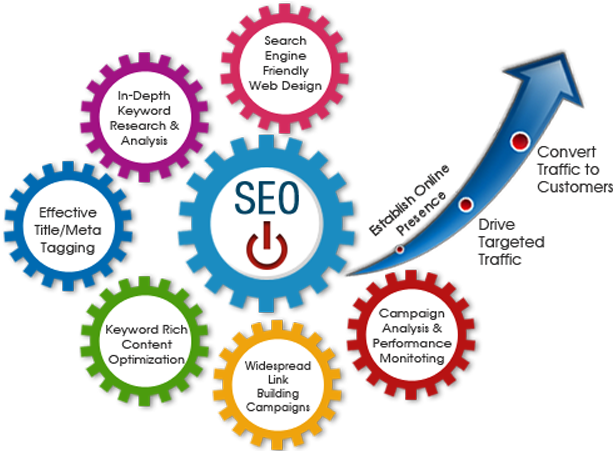 Our expertise on strategic SEO tactics helps you run a flourishing online business. Get first page rankings for your chosen keywords and see a torrent of leads for your online business. Get qualified site traffic on the basis of high impact SEO traffic driven by a comprehensive SEO strategy geared to help you succeed.
We carry out an all-inclusive SEO audit that checks for optimization opportunities on the website on various elements like headings, meta descriptions, and content. We also aim to build your authority position by linking to high quality sites within your industry vertical. Such in-depth linking strategies are just what you need to be found by a larger population of your target audience.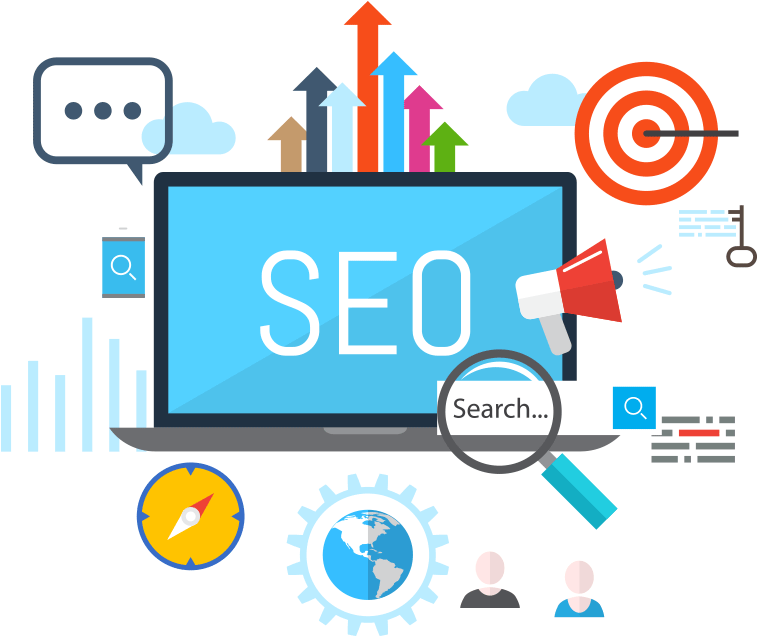 A blend of SEO tactics to help you achieve unmatched growth.
First page ranking is crucial for a business' success. When customers find for businesses like yours, you need to be prominently displayed on first page results so that there is the maximum likelihood of user clicking on the result to visit your website. This is the exact USP of our SEO strategy.
We employ a broad array of tactics in white label SEO including.
Connect with us today at SEO Pride to know how we can help propel your products and services past your competition.
What services do you get with our SEO expertise?
Our outcome oriented white hat SEO services help you gain top search engine ranking. Improve site traffic and get higher conversion rates with strategic SEO services designed with your target audience in mind.
We carry out a comprehensive SEO audit to uncover potential issues and scope for optimization. It includes analyzing site architecture, backlinks analysis, content analysis, and off-page and on-page activities. This detailed assessment will help us focus on what needs to be improved to get your brand a higher SERP ranking. We design a custom plan as per your specific digital marketing needs and your target market. Such planned approach enables long term success for your SEO campaigns.
Our keyword strategy is simple – we aim to let your brand appear in the front when customers search for businesses like yours. We ensure to find out keywords that your customers are searching for. Get better site traffic, higher email signups, improved engagement, and increased conversions with the right keyword strategy applied to your custom SEO campaign. We analyze how many people are searching for the keywords targeted and what is the level of competition. The right balance of these will enable you to extract maximum ROI from your keyword strategy
We optimize the site content and architecture so that Google algorithm can understand your site better and reward it with a higher ranking on search results. We make sure to use only those on-page SEO techniques that help the Google bots understand that the site is relevant to your prospective customer's search query. Some of our on-page activities include adding keywords, optimizing meta tags, and linking with authority sites.
Content is one of the biggest ranking signals for SEO. Hence, we pay a lot of attention to providing compelling and in-depth content that your readers would love to read. We aim to provide meaningful value to your readers lives with quality and fresh content. The infusion of keywords at the right places ensures that the content is loved by people as well as by Google. Be it content development or its publishing on authority sites we do it all.
We undertake a range of activities out of your website to bolster your SEO rankings. These include building authoritative and genuine links. They also cover social bookmarking, posting on classifieds and social media optimization. Our off-page SEO includes RSS feeds and third-party article submissions too. With strategic guest posting and forum posting, we ensure that your brand presence and outreach expands to the maximum eyeballs online.
We keep you updated about the progress of our long-term SEO campaigns with our reporting. You see a gradual improvement in search rankings on selected keyword term. This instills confidence that your SEO campaign is in the right hands of experts. We send periodic reports of all activities done and its outcomes. This way, you know that you are getting maximum value for every dollar you invest in a custom white label SEO package from us at SEO Pride.

Mike George
There are so many things to keep up with running an online marketing business. It is a luxury to have a company like SEO Pride that we can handle our…

Gonzalo Nunez
My name is Gonzalo Nunez, I am a destination wedding photographer. I run my business from Mexico, but the main screen for showcase my art is my webpage. All my…

Mark Engwirda
Using SEO Pride our website has gone from a page rank of PR0 to a PR3 in just 6 weeks on a challenging budget. They not only delivered this in…

Jonathan
Digital ID have used SEO Pride for several years and have seen a large increase in visitors and quality of traffic. Ishan provides regular detailed reports and his advice is…

Ivan S.
There are several agencies / link builders I've worked with, however Ishan is my number one choice. He has helped me, and my good friend in a very competitive field,…

Drew
We've worked with SEO Pride for quite a while now, and we couldn't be happier. Assignments are always completed in a timely manner, and are delivered with the quality that…

Iain
Ishan and his team at SEO Pride have supported our search engine optimisation services with reliable and effective Link Building and Social Media Campaigns. I would not hesitate to recommend…

Ian
SEO Pride has consistently delivered for my company and we have now been working with him for 1 year. Ishan breaks the mould of most people doing what he does,…

Marc Mantel
SEO Pride has been an important part of our Search Engine Optimization Program. They have extensive knowledge of the process and their customer service is outstanding. It has been a…

Mike George
There are so many things to keep up with running an online marketing business. It is a luxury to have a company like SEO Pride that we can handle our…

Geoff Wolfe
As a web designer myself I can thoroughly recommend SEO Pride as a first class service for any web design company's link building strategy. With the off page optimisation help…

Tim Capper
SEO Pride has proved to be reliable and cost effective for a small business like mine. The quality of their work is second to none and are a wonderful resource…

Dr. Manish Shah
Working with SEO Pride has been really fantastic. They created a really nice looking website for me and my staff and I were really happy with the way it looked.…
Our specialized services
High impact digital marketing services meant exclusively for your brand
Packages
BRONZE

SILVER

GOLD

PLATINUM

DIAMOND

$150

PER MONTH FOR

INDIVIDUALS

$250

PER MONTH FOR

FOR SMALL FIRM

$400

PER MONTH FOR

FOR MEDIUM FIRM

$750

PER MONTH FOR

FOR LARGE FIRM

$1100

PER MONTH FOR

FOR BIG CORPORATION
| | | | | | |
| --- | --- | --- | --- | --- | --- |
| TARGETED KEYWORDS | 5 | 10 | 20 | 40 | 80 |
| BRAND KEYWORD OPTIMIZATION | | | | | |
| NAKED URL PROMOTION | | | | | |
| WEBSITE ALL PAGES OPTIMIZATIONS | Up to 5 Pages | Up to 10 Pages | Up to 20 Pages | Up to 40 Pages | Up to 80 Pages |
| PARTIAL MATCH COMBINATIONS/LONG TAIL | | | | | |
| SUGGESTED TIME FRAME | 6 Months | 6 Months | 6 Months | 6 Months | 6 Months |
| COMPETITOR'S ANALYSIS COUNT | 1 COMPETITOR | 2 COMPETITOR | 3 COMPETITOR | 4 COMPETITOR | 5 COMPETITOR |