GET FREE BRAND AUDIT REPORT FOR YOUR BUSINESS
PAY PER CLICK (PPC)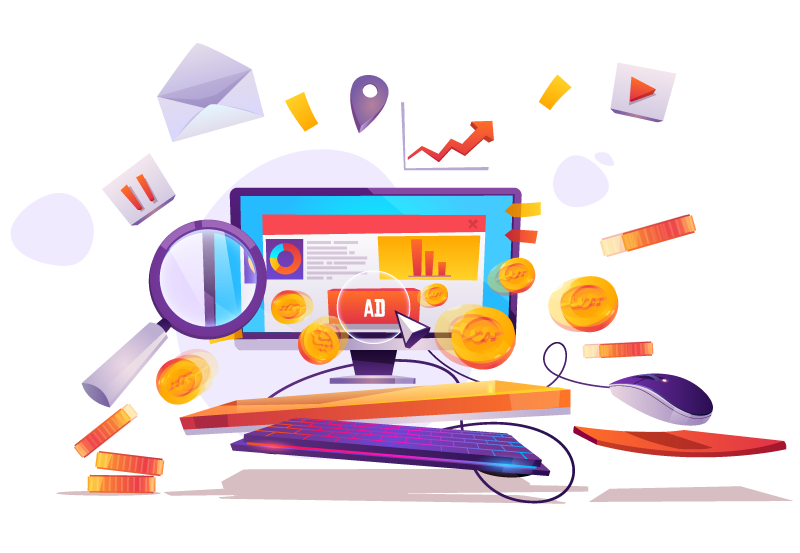 With the digital advertising or pay per click services, SEO Pride ensures that your brand gets a competitive edge. We set up, fine tune, and deploy a well-rounded PPC campaign that provides total value for every marketing dollar invested in this endeavor.
Right from bid and position management to formulating a winning PPC strategy, our paid ads experts will help your brand get a competitive upper hand. We offer our services for a range of channels such as Google AdWords, Bing Ads, Facebook Ads, and Instagram Ads. Our strategies are customized to your target demographics and line of business, and hence have the maximum chances of succeeding online.
Your online business gets an unmatched competitive edge with custom PPC services.
Why wait for months and years to come up on search rankings when you can jump directly to the 1st page of the search results page? Yes, Our tailored PPC campaigns can help you achieve this coveted position, and fire up conversions like never before.
Our paid search marketing specialists can build and deploy new campaigns on Google Ads (formerly Google AdWords). We can also excel at examining existing PPC campaigns and fine-tune it for better performance. When you need maximum eyeballs on your brand, our PPC campaigns will help you accomplish this challenging task with ease. With refined audience targeting, we ensure that the right people see the right ads at the right time, thus improving site traffic.
Are you looking for end to end support on Microsoft Advertising (formerly Bing Ads)? Then place a call or mail to SEOPride for total support. Be it defining goals, market segmentation, or developing targeted landing pages, we can do it all. Our search marketing experts help you keep a close eye on Microsoft Advertising performance at all times. This way, you know that you are getting optimum value for every dollar invested in the search ads on Bing.
Your Facebook Ads help propel your visibility, like no other social media channel. If you need to target B2C customers, then our carefully curated Facebook Ads will do the job for you. We factor in the characteristics of your industry and your customer profile, to create memorable Facebook Ads. We track all critical metrics like traffic volumes, conversion, and the number of leads generated. This way, you will be on top of every activity that goes towards your Facebook Ad performance.
Instagram is bringing about a shift in how people's purchase behaviour is influenced. We develop targeted Ads on Instagram for the visual and creative genre of industries like eCommerce, restaurants, entertainment, or travel. Improve audience engagement with attractive and timely Instagram ads, and see your business flourish with the help of this social channel. Utilize our skills to make Instagram a viable storytelling medium and a crucial digital marketing asset.
Why is PPC essential?
Simply relying on SEO will not be a wise move. Savvy marketers know that a balance of PPC and SEO will generate favorable outcomes both, in short term and in long term. Here are some reasons why PPC is an essential part of your digital marketing strategy:
What we do in PPC services?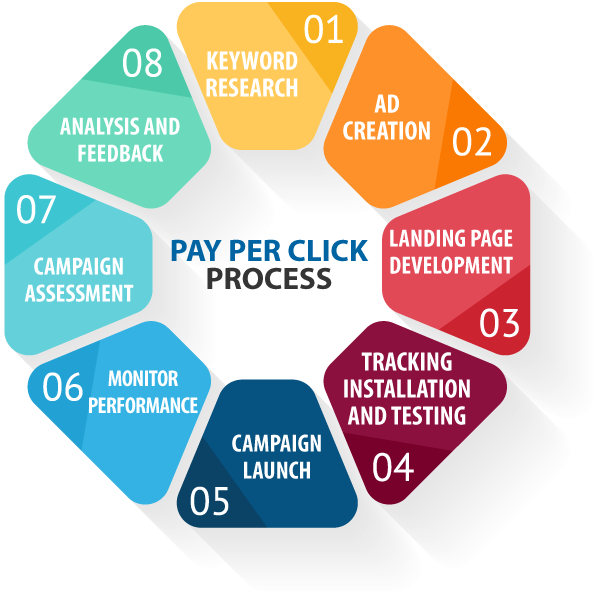 Some of the key activities undertaken here include.
Understand business needs and target audience profile.
Landing page design, optimization, and review with A/B testing.
Bid and position management.
Rigorous audit of bid funnel.
Set up and configure PPC ads.
Audit and review of different types of marketing and advertising. These include paid search marketing, social media advertising, display advertising, affiliate marketing, and retargeting PPC advertising.
Keyword analysis based on competition and complexity.
Matching ad copy to relevant keyword and design of specific campaigns to be rolled out in a strategic manner.
We also look at managing the ad spend with a focus on setting budgets, extensions of ads, scheduling, and geographical targeting.
These pointers amply depict why SEO Pride can be a trusted partner of choice to extract maximum ROI from your ad spend with its tactical PPC services.

Mike George
There are so many things to keep up with running an online marketing business. It is a luxury to have a company like SEO Pride that we can handle our…

Gonzalo Nunez
My name is Gonzalo Nunez, I am a destination wedding photographer. I run my business from Mexico, but the main screen for showcase my art is my webpage. All my…

Mark Engwirda
Using SEO Pride our website has gone from a page rank of PR0 to a PR3 in just 6 weeks on a challenging budget. They not only delivered this in…

Jonathan
Digital ID have used SEO Pride for several years and have seen a large increase in visitors and quality of traffic. Ishan provides regular detailed reports and his advice is…

Ivan S.
There are several agencies / link builders I've worked with, however Ishan is my number one choice. He has helped me, and my good friend in a very competitive field,…

Drew
We've worked with SEO Pride for quite a while now, and we couldn't be happier. Assignments are always completed in a timely manner, and are delivered with the quality that…

Iain
Ishan and his team at SEO Pride have supported our search engine optimisation services with reliable and effective Link Building and Social Media Campaigns. I would not hesitate to recommend…

Ian
SEO Pride has consistently delivered for my company and we have now been working with him for 1 year. Ishan breaks the mould of most people doing what he does,…

Marc Mantel
SEO Pride has been an important part of our Search Engine Optimization Program. They have extensive knowledge of the process and their customer service is outstanding. It has been a…

Mike George
There are so many things to keep up with running an online marketing business. It is a luxury to have a company like SEO Pride that we can handle our…

Geoff Wolfe
As a web designer myself I can thoroughly recommend SEO Pride as a first class service for any web design company's link building strategy. With the off page optimisation help…

Tim Capper
SEO Pride has proved to be reliable and cost effective for a small business like mine. The quality of their work is second to none and are a wonderful resource…

Dr. Manish Shah
Working with SEO Pride has been really fantastic. They created a really nice looking website for me and my staff and I were really happy with the way it looked.…
Our specialized services
High impact digital marketing services meant exclusively for your brand
Packages
BRONZE

SILVER

GOLD

$250

PER MONTH

FOR INDIVIDUALS

$350

PER MONTH

FOR SMALL FIRM

$550

PER MONTH

FOR MEDIUM FIRM